Based on the decision of the Commission for granting state aid of the Republic of Serbia, which was published on the internet presentation of that commission, the state is helping the investment of the Chinese company Linglong in the construction of a car tire factory in Zrenjanin with 83.5 million euros. Of that, a little more than 7.5 million euros is the value of the land that was donated to Linglong, and the rest of the non-refundable state aid will be paid in money, in the period from 2020 to 2026.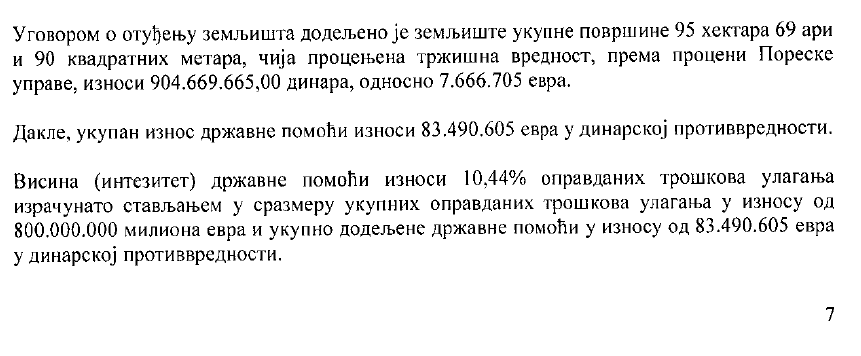 The State Aid Commission has calculated that the share of state investment in the total planned investment of Linglong is 10.44%.
Why didn't the state of Serbia, if it already participates in this investment with such a significant percentage, agree on a proportional ownership share in the future factory? Whether any of the decision-makers of such harmful decisions for the state and citizens will have illegal property gain that is not known to the public for now – is a question for the prosecution, but also for investigative journalism.
It is clear from the document that the total cost of salaries in Linglong will be little more than 16 million euros, which means that the state non-refundable aid to that company far exceeds the incentives for creating new jobs.
It is justified to ask the question how many domestic companies would employ 1,200 workers for five years, which is the only obligation of Linglong, if the state gave them 83.5 million euros?
For the sake of comparison, about 50 million euros have been invested in the Zrenjanin hospital, which has been under construction for more than 30 years.
Last year, the Linglong company started the construction of its plant in Zrenjanin without a Study on Environmental Impact Assessment, with numerous objections by the professional public and citizens regarding the manner of obtaining construction permits.
That company does not bring economic benefits to the state and citizens, it endangers the free market, and it certainly brings great environmental and health problems.
Serbia has become a country whose government pays for alarming environmental pollution from Chinese investors with budget funds, presenting it with projects of national importance and historical economic successes. Bor and Smederevo are already endangered, and now Zrenjanin is also endangered. Humiliated citizens, but also the judiciary, mostly turn their heads away from that and are silent, as if someone else will save them.
Related news: